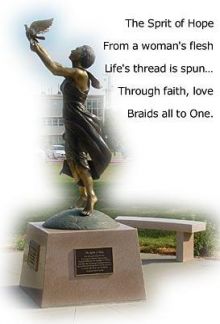 In 1997, breast cancer survivors approached The Race Against Breast Cancer, Inc. Board of Directors to propose a lasting tribute to honor the courageous women who have faced breast cancer – both to celebrate survival and to honor those who have lost the battle. After acceptance, The RABC formed the "Spirit of Hope" committee which included the women who were breast cancer survivors and those still receiving treatment.
In July 1998, the committee chose to commission a bronze sculpture with the assistance of Degginger's Foundry of Topeka and local artist and sculptor, Janet Zoble.  Zoble created three preliminary sculptures that were made available for various levels of contributions to the sculpture project. These included a color print made from the original "Spirit of Hope" painting, a silicone bronze medallion, and a cast silicone bronze 22″ maquette.
The "Spirit of Hope" project was launched at the RABC's annual 5K Run/Walk in October 1998. Simultaneously, efforts were initiated to secure a permanent location for the sculpture at Washburn University. Pink salsbury granite base was chosen for the base which contains three bronze plaques detailing the dedication, the major benefactors and a poem which was written by a friend of the project.
In January 2000 the sculpture was completed. Cast in silicone bronze, with dove and earth base in nickel bronze, the statue stands 9 feet tall and weighs over 500 pounds. Installed at the northeast corner of the old Whiting Fieldhouse on the campus, the sculpture was donated to Washburn University and is the reality of a combination of many generous contributions.
May 7, 2000 was the official dedication ceremony. Since that time, two beautiful pink granite benches were installed as a tribute to committee member Karen Rodeheffer who lost her battle with breast cancer. The sculpture has touched many in the community for whom breast cancer is an initmate experience. During the creation of the Spirit of Hope, two prominent founding members of the tribute committee, Betsy Davis and Karen Rodeheffer, died of complications due to breast cancer. Their brave struggle, and that of so many women like them, is what this tribute honors.