Virtual Event Sales Merchandise & Quilt Raffle
The event t-shirt, face mask and raffle tickets for the event quilt are for sale on the event registration site.  Please click here if you are interested in purchasing merchandise without registering.
The event shirt is a short sleeved gray shirt with a special event logo on the front.  The cost of the shirt is $10.
The event face mask is available for $5.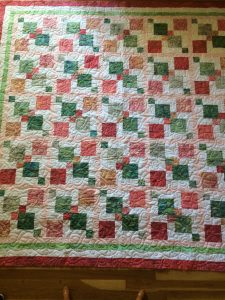 The raffle tickets for the event quilt are $2 each.  The event quilt raffle will take place on September 14 and the winner will be notified.  The quilt's dimensions are 84″ x 84″ and is machine quilted by Jean McDonald in an intricate ribbon pattern with a heart in the center. Vyn has chosen fabrics in a variety of prints in bright pinks, lime greens, and turquoise on a white background. Some of the fabrics will have been used in previous RABC quilts. The name of the pattern is Cut Ups and was designed by Pat Schremmer, a local quilt shop owner.  This year's quilt is dedicated to current breast cancer fighter, Gayle Bailey, sister of the quilt creator. The raffle style drawing for our event quilt will happen on Monday 9/14/20 and the winner will be notified via phone. Tickets can be obtained online until September 13.
Merchandise will be delivered/sent to the purchaser's credit card address during the weeks of September 28 – October 9th.