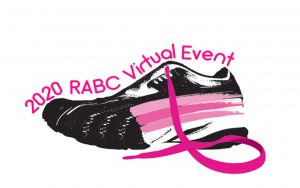 Since 1991 the nonprofit organization, Race Against Breast Cancer, has paid for no cost mammography screening. Join us for our largest fundraiser of the year which helps us pay for no-cost mammography services for the needy in our area!  In past years we have gathered together to run and walk in a 5K or 1 mile fun run event.  Due to the current health crisis we felt it was best to change our annual event for 2020 out of concern for the health of our participants and volunteers.
The Event
This year it is a two week virtual fundraising event that you can register to participate and complete in your choice of a 1 mile fun run, 5K run, 5K walk, 10K run or a 20 mile bike ride.  Complete your chosen registered event between September 12 – 26  however you chose – at home or safely in your community while adhering to social distancing regulations.  If you are unable to participate you can support us by donating to the Race Against Breast Cancer by clicking here.

Those have registered before online registration closed for the 5K run, 5K walk, 10K run, 20 mile bike ride or Sit & Support are eligible for an event t-shirt.  T-shirts will be delivered after the event and an email notification of delivery will be sent to participants or those who purchased items from the event store.
Walkers, runners and bikers who want to track their performance are encouraged to use online trackers such as Strava.com.  
Online registration is now closed – thank you for your support!
100% of the proceeds remain in northeast Kansas to pay for potentially life saving mammography services for those in medical and financial need in our community.  Your registration and participation in this virtual event unites us in the race, whatever the distance between us.  The race against breast cancer is a race we cannot afford to lose!
Share With US #virtualfunRABC2020
Have a great time while supporting a great cause!  Use your creativity and take pictures of yourself and your crew while you participate during September 12 – 26 to share with the RABC.  Share your pictures with the hastag #virtualfunRABC2020   Like and share with us on facebook at https://www.facebook.com/RABCtopeka or send your pictures with any information you would like for us to share to our email address of rabc@rabctopeka.org.
So take a run dressed from head to toe in your pinkest gear.  Walk with your best furry four legged friend.  Ride to victory for the Race Against Breast Cancer and the northeast Kansans we serve!
Post your Results by putting this link in your browser
https://runsignup.com/Race/KS/NortheastKansas/September2020RABCVirtualEvent
and follow the instructions below:
Scroll to the bottom of the page and click on "Results".  Then enter your name under "Participant Tracking" and click on "Lookup Registration".   Then under "Post Virtual Results" click on "Submit Virtual Results" and submit your time or click that you have completed the event.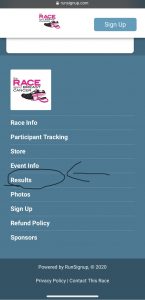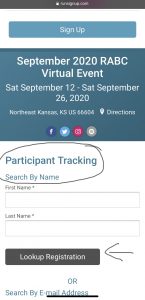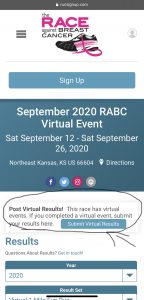 Thank you to Our 2020 Event Sponsors.